Shimla. Weather in Himachal Pradesh (Himachal Weather) Running dry. After rain and snowfall on 10th November, the weather is now clear and the sun is shining. However, despite the sunshine, a drop in temperature is being seen. On the other hand, Leh Manali Highway (Leh Manali NH Closed) Now it will open only in summer next year. It has been closed beyond Darcha of Lahaul Spiti. On the other hand, there is fog in Sundernagar of Mandi district and visibility is very low.
According to Shimla Center of Meteorology, it was sunny across the state on Monday. There is light sunshine in some areas but the weather will remain clear in Himachal for the next seven days. Despite the clear weather, the maximum drop in maximum temperature was recorded at 3.1 degrees in Mashobra of Shimla, 2.9 degrees in Dalhousie of Chamba, 2.6 degrees in Una, while there was no significant change in the minimum temperature.
According to the Meteorological Department, it is colder at night in Mandi, Solan and Una than in Shimla. The minimum temperature of Shimla was recorded at 8.8 degrees, Sundernagar at 6.5, Solan at 6.6 and Una at 8 degrees.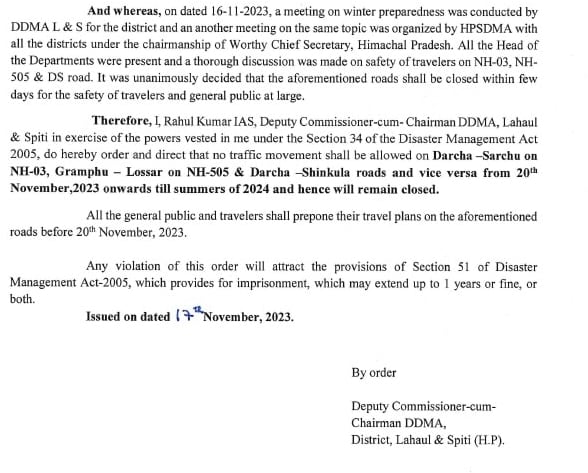 DC Lahaul Spiti has issued orders to close Leh Manali Highway.
Leh Manali Highway closed for 7 months
On the other hand, due to falling temperature in Lahaul Spiti, water has started freezing in the high altitude areas. Traveling on Leh Manali Highway has become dangerous. In such a situation, Lahaul Spiti DC has now ordered to close this highway. According to the order, now orders have been given to close Leh Manali Highway, Shinkula Darcha and Kaza Manali Highway. Traveling on these routes now can be risky. These highways have now been closed since November 20.
,
Tags: himachal pradesh, Shimla News Today, Weather Alert
FIRST PUBLISHED: November 20, 2023, 13:11 IST